Tue, 19 March 2019 at 7:50 pm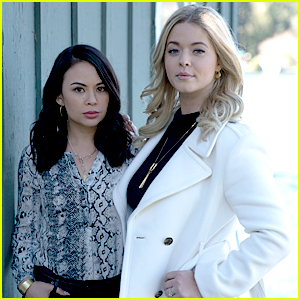 When The Perfectionists premieres tomorrow, you'll see something we've never ever seen before – Ali and Mona being friends!
Sasha Pieterse and Janel Parrish chatted with Bustle about their characters' new roles on the series and that includes trying to be friends with each other.
"Mona and Alison are just trying to live their best Beacon Heights life, they can finally be friends and then — bam! A death," Sasha joked, before expanding on Ali's new life.
"Alison sees the Perfectionists as sort of her foster puppies. I think Mona is at first like, 'OK, Alison, you go play with your little puppies' and as the mystery unfolds and the stakes get higher, Alison comes to Mona for help, naturally," she adds.
Janel adds, "I think Mona, who has always been a little bit of a loner but yearned to be part of a group, sees an opportunity for her to open up a little bit more to people. It's going to be a struggle for her because you know, she's Mona, and she's used to being a lone wolf. But it's interesting to see her figure out how to approach having personal relationships with people."
While Mona and Ali have a complicated relationship, Sasha and Janel are super close off screen.
"Janel and I get along so well off-camera, she's a very close friend of mine," Sasha says. "So it's fun for us to have these kinds of scenes together where we're not yelling at each other or in our old type of dynamic.
"That's a brand new development that shocks Alison, and she's not sure how to take it and she's not sure if she can trust her. And slowly but surely, this new kind of friendship develops."
Sasha continues, "I love that it's not just like, all of a sudden, everything's OK between them, there's still that glimpse into the past and their history."
Like Just Jared Jr. on FB