Tue, 19 March 2019 at 7:35 pm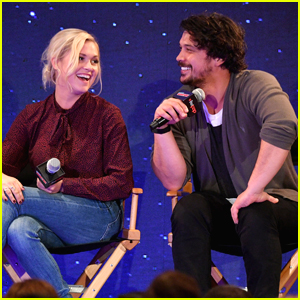 Eliza Taylor and Bob Morley are giving us all the feels as they opened up about working with each other on The 100 since the start.
Speaking to IBT, the two stars of the CW series, chatted about having a unique experience on the show together.
"The chemistry that Eliza and I have working, I've never really had with anyone else, and it's just such an easy, comfortable thing," Bob shared. "I think it comes back to Season 1…we're both from the same city in Australia, it's both our first American gig, [so] we both just intrinsically trusted each other. And I'm really glad that we get to do that."
He adds that in the upcoming season, their characters Clarke and Bellamy, will still be butting heads and also working together on things.
"There will be bad ones and sweet ones [because] even if the characters are at odds," Bob says of the Bellarke moments. "The truth of Bellamy and Clarke is still there, and they are two people that need each other and rely on each other."
"I mean a lot of water's passed under the bridge, but they still got to mend that bridge before they can accept [their past]," he continued. "I think they take on what Monty has said about being the good guys and doing better than we did on the other planet, which is going to be pretty easy considering we blew up the last planet. The bar is set very low."
"I think they want to respect Monty's wishes, try and do better and also work as a team. I mean, there's a reason he woke up the two of them," Bob says. "And I think that he thinks that those two work better when they're working together. So, to respect Monty and Harper's wishes, I think that's something that they need to do, and I think they're aware of that."
Eliza joked later that she loves "working with the idiot, and we just have such a good time. So, yeah, we get to be sort of leaders again, which I like."
The 100 returns on April 30th on The CW.
Like Just Jared Jr. on FB