Wed, 20 March 2019 at 7:33 pm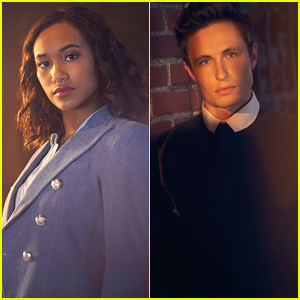 We haven't even watched the show yet, and we are 100% here for this Perfectionists 'ship!
It's Caitlin Park-Lewis (Sydney Park) and Jeremy Beckett (Graeme Thomas King)!
"I think Jeremy would do anything for Caitlin, and I think he's very much in love,: Graeme told Bustle in a new interview. "But as time goes on there's more tension and things endanger what they have.
He added, "For him, more than her, this is his life. She's got so much going on with her family, but his Beacon Heights life is everything."
Graeme also opened up about Jeremy and just who he is, ahead of the premiere tonight.
"[Jeremy is] very intelligent, and I think he's new to the States and has come over fairly recently. I think he loves his job, he's got a great apartment he's obviously getting paid really well. To not speak maybe?"
He continues about his character possibly being a villain in the show, "As time goes on you learn more about them as people and what drives them, and it's the same with Jeremy. Is he bad? What's he up to? They all do bad things, but they're also human. But I like him, as time time goes on you see why he does what he does."
Like Just Jared Jr. on FB