Wed, 20 March 2019 at 11:58 am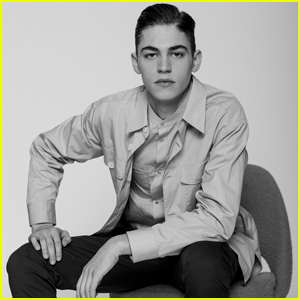 Hero Fiennes Tiffin gets serious in a photo from his shoot with WWD, online now.
The 21-year-old After star opened up about fans, watching the film and getting his start. Check it:
On his family being in the entertainment industry: "My family being in [the industry] definitely had an effect on it at the start, because I wouldn't have considered it an option if I weren't in a family that does it…I didn't walk away thinking, 'This is what I want to do.' I carried on going to school and doing normal children stuff that children want to do. And it was the more time that I spent away from acting that I realized how much I liked it."
On the massive support from After fans: "It's great how much support we have and have had from the start up until now. It's very helpful in terms of interacting because it's so new to me and quite overwhelming. I'm probably not the best at staying in contact with fans, but the support is all recognized and appreciated."
On why he hasn't watched After yet: "I'm waiting for the right time — my laptop's broken. I have the ability to watch it; I'm going to watch it when the time's right. I feel like watching yourself is always a little bit weird."
"I feel like watching yourself is always a little bit weird, but watching yourself in sex scenes is probably going to be a bit more weird. I'm interested to see how I react."
For more from Hero, visit wwd.com.
Like Just Jared Jr. on FB