Thu, 21 March 2019 at 2:08 pm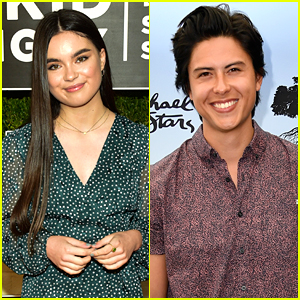 Six new faces are joining Hulu's Looking For Alaska series – and some a super familiar!
Landry Bender, Jordon Connor, Denny Love, Jay Lee, Sofia Vassillieva, and Uriah Shelton are all set as series regulars in the eight-ep show, which also stars Kristine Froseth and Charlie Plummer.
Looking for Alaska is told through the eyes of teenager Miles "Pudge" Halter (Plummer), as he enrolls in boarding school to try to gain a deeper perspective on life. He falls in love with a girl, Alaska Young (Froseth), and after her unexpected death, he and his close friends attempt to uncover the truth behind her death and make sense of it.
Denny is The Colonel aka Chip Martin is a short (and very smart) muscular tank of a young man. He's a scholarship student and under orders from his mother to get a good enough education. He's an enemy of the lacrosse jocks and insanely loyal to his friends.
Jay plays Takumi, who is famous for knowing all the gossip and effortlessly bounces back between the two groups of friends but is ever loyal to The Colonel and Alaska.
Landry will play Sara, The Colonel's girlfriend. She is also short and angry – but her rage is only directed at The Colonel because he manages to do something that pisses her off pretty much every time they interact. She and The Colonel are one of those bickering couples, who spend their lives hollering at each other.
Sofia is Lara, a cute, shy and sweet girl from Romania, who develops a crush on Miles.
Uriah will play Longwell, a handsome, rich and entitled jock at the school. A rich kid, he despises The Colonel and all of his non-jock friends, making their lives as miserable as possible.
Jordan will play Kevin, another "Weekday Warrior" lacrosse bro. He follows Longwell's lead in everything and blames The Colonel when a member of their clique gets expelled.
Like Just Jared Jr. on FB