Thu, 21 March 2019 at 10:52 am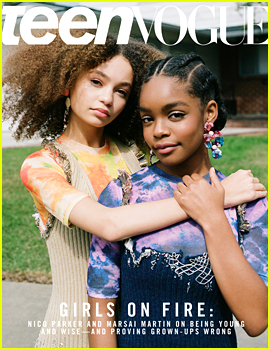 Nico Parker and Marsai Martin are both looking so beautiful for the cover of Teen Vogue's April 2019 issue, which is out now.
Here's what the 14-year-old Dumbo actress and the 14-year-old Little actress had to say…
Nico, on refusing to be told that her way of seeing the world is somehow incorrect just because she's young: "For young people, it's often said that we're always on our phones, and we're not aware of our surroundings, and we're not aware of what's going on in the world. It's the complete opposite."
Marsai, the youngest Hollywood executive producer in history, on becoming more confident thanks to her acting and producing experience: "The first time I was in Universal, I was 10, and I [was wearing] this blazer. Now, it's like I come in with sweats with a hoodie, and I'm just like, 'So, here's what's going down guys.'"
Nico, on how her mother, actor Thandie Newton, is helping her learn to be aware of the pitfalls of fame and how situations can become dangerous or manipulative, especially for young women: "[My mom] is very 'mama bear' over me. Just the fact that she's been through things herself, it also teaches me what situations I can avoid, or what situations that I can stay in."
Marsai, on what she could tell her 9-year-old self, learning to speak up for herself, and her plan to "change the normal": "What you say matters, and your voice is heard…. [Little] made me feel like this can happen. It wasn't impossible. We definitely need more of that in the industry. Of course, the more I keep creating, the more that will probably happen."
For more from Nico and Marsai, head to TeenVogue.com.
Like Just Jared Jr. on FB