Fri, 22 March 2019 at 3:27 pm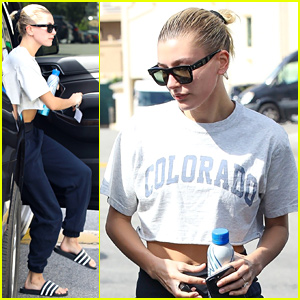 Hailey Bieber gets in a gym sesh on Friday (March 22) in Hollywood.
Here's what Drop the Mic host had to say in a recent feature for Cosmopolitan:
On her pro tips for handling social media pressure: "I've found that I got to a place where I don't read the comments. You still care to a certain extent. You really have to train your brain to be like, 'Okay, why do I even care? I don't know these people, they don't know me, they're not a part of my life or my relationship or whatever it is.' People can just be mean, and I feel like if you don't want it to get to you, then don't read it and allow it to affect your soul."
"Sometimes I delete Instagram for a couple days at a time, which is really nice. I've done that when I've felt like I really couldn't handle what people were saying or it was like what I was looking at was unavoidable."
On media: "But media itself is just awful. They just really want to see you fail, for whatever reason. I don't know if it's because they want to be able to say, 'I told you so' or because they want to be right, I don't really know what the idea is behind trying to tear somebody's relationship down, or person down, whatever it may be. I guess it's just kind of an evil world, at the core of it, and humanity is just struggling."
On maintaining close relationships through frequent travel and long work days: "It's the same when you're in a relationship, and you both separate for work. How do you make that happen too? You've just got to make time for each other and see each other. And you've got to make time for your friends no matter what."
For more from Hailey, visit Cosmopolitan.com.
Like Just Jared Jr. on FB