Mon, 25 March 2019 at 2:44 pm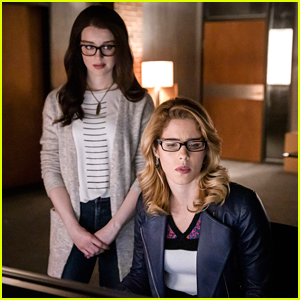 Felicity is recruiting Alena to help her launch Smoak Technologies on Arrow.
In "Inheritance", Felicity (Emily Bett Rickards) has teamed back up with Alena, who's been disappearing left and right, for help in launching her new company.
Turns out that Alena (Kacey Rohl) has been keeping a low profile working at Tech Village, but now has a better job offer from Felicity – as Chief Technology Officer of Smoak Technologies.
Elsewhere in the episode, Laurel (Katie Cassidy) learns about some damaging information that affects Emiko (Sea Shimooka). Always looking to protect his sister, Oliver (Stephen Amell) invites Laurel to help investigate, which makes Felicity happy as her friend is now working with the team.
However, when things go awry, Felicity is forced to make a choice between the team and Laurel.
Arrow airs TONIGHT, March 25th @ 8PM ET/PT on The CW.
Like Just Jared Jr. on FB