Fri, 29 March 2019 at 12:13 pm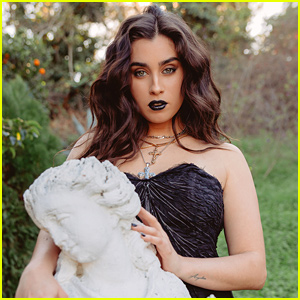 Lauren Jauregui gives the camera a piercing stare in her new cover shoot for EUPHORIA. Magazine!
Here's what the "Expectations" crooner had to say to the outlet:
On the departure from the pop ethos of Fifth Harmony to create her own alternative R&B sound: "I'm leaning more towards live instrumentation and my vocals are very raw so I'm really focusing on my lyricism. That's where I feel like my strong suit is. I'm pretty vocal about the fact that [Fifth Harmony] wasn't necessarily a representation of my personal taste in music or my expression in music. I think I speak for a lot of us when I say that…"
On how sexuality doesn't be someone's defining factor: "For me, it is who I am, but it doesn't define who I am, the same way no one's sexuality defines who they are. It's awesome to be proud of the love you're able to express in this lifetime. I would prefer if most of the headlines weren't about [my sexuality], but I understand the sensationalization of sex in our culture so I don't really care too much at the same time. I get it, people like to talk about who people are f–king."
On what power player in Congress is an inspiration to her: "[Alexandria Ocasio-Cortez] is a major idol for me right now. You know when your mom walks in and is like, 'Okay. This is how it's gonna get done. I've seen you struggle long enough – I'm just gonna fix this s–t.' She's insanely human and she actually takes her position in public office seriously."
For more from Lauren, visit EuphoriaZine.com.
Like Just Jared Jr. on FB