Fri, 29 March 2019 at 2:09 pm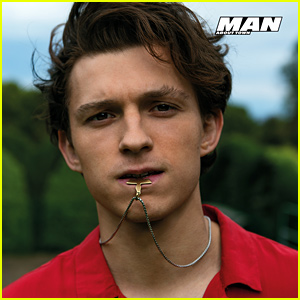 Tom Holland gives the camera a smoldering look in his new cover shoot for Man About Town magazine, available exclusively at www.ManAboutTown.tv.
Here's what the Spider-Man: Homecoming star had to say tot the outlet:
On working with Robert Downey Jr.: "[He's] just such a breath of fresh air, and for me to get the chance to work with him in such a professional capacity – it's so refreshing. It shows that you can be the most successful person in the industry and not be a dick, you know?"
On his obsession with Spider-Man: "I've been playing Spider-Man in my bedroom since I was a kid. I grew up watching the films and I watched all the cartoons. I was kind of obsessed with him. When I walked on set for my first day it was my first day on the MCU (Marvel Cinematic Universe) but it was my thousandth time playing Spider-Man so I felt like I had it in the bag. … I feel like a lot of Superheroes are very abnormal people. Tony Stark is a billionaire, Captain America is a super solider, Thor is a god and I just think that it's nice to have a kid."
On staying grounded despite his fame: "My parents and brothers are such cool people that they wouldn't really let my life change that much. I'll come home from a hard day's work and my mum will tell me to do the dishes, 'It's your turn.'"
On the power of superhero films: "There seem to be horrible things all over the world, and these films are a really nice way to forget about the world in which we're living, enter into this magical world, enjoy a bit of freedom and watch these people who we admire and who we look up to do good and ultimately save the day."
For more from Tom, visit ManAboutTown.tv.
Like Just Jared Jr. on FB