Fri, 29 March 2019 at 4:18 pm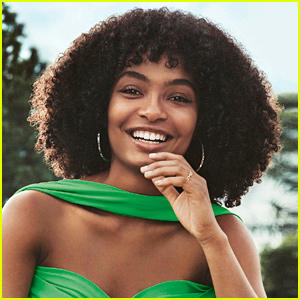 Yara Shahidi flashes a radiant smile in her new cover shoot for Porter magazine, available worldwide on April 5!
Here's what the Grown‑ish star had to say to the outlet:
On politics after Oprah Winfrey said in a Q&A that she hoped to be around when Yara becomes President of the United States: "I realized pretty early on that all my interests come just from a general investment in human beings. And so that makes it really easy because everything feels very connected in a way that I'm really grateful for – the ability to have my day job as an actor, while also connect deeply with the work that I want to do in terms of voting, registration and civil engagement for my generation."
On being nominated as the voice of a generation: "A defining mark has been this desire to be undefined and to have some autonomy over self in terms of saying, 'This is how I identify. And I should have the right to live freely.' Even just looking at my friendship groups, I see the spectrum of sexuality, gender identity, immigration status, college status and being the first person in the family to go to college, all those things. I feel like there's a variation now in a way that's really lovely, but in a way that you can't deny. And as that expands with our generation, there will come a very natural point at which you can look at the world and say, 'That's why I believe all these other people deserve similar rights.'"
On growing up with – and her experiences of having – multiple identities: "It's a unique perspective, being black and Iranian, and coming from two persecuted peoples. On one side of my family is the list of people who can't enter the US from certain countries [referring to President Trump's so-called Muslim ban], and on the other side are those who are familiar with what it's like being black in America."
For more from Yara, visit Net-A-Porter.com or PorterSubscription.com.
Like Just Jared Jr. on FB