Mon, 01 April 2019 at 1:16 pm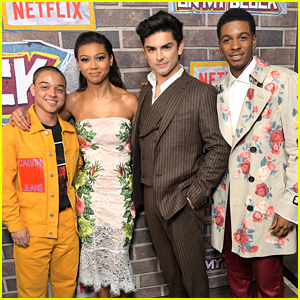 On My Block's season two finale was shocking!
If you didn't watch – go do it now! – and if you did, let's chat all about those kidnappers who picked up Monse, Cesar, Ruby and Jamal off the street.
Showrunner Lauren Iungerich spoke to TV Guide about the possible identity of the ones who took the friends.
"In Episode 10, when the kids find out that the money was switched, like a bait and switch, and that the Prophets were given the dirty money, they were worried that it would get back to them," she explains. "Potentially that's what's happened at the end."
Lauren continued that you "should be as worried [about them] as you would be knowing this is a television show and characters we love. I think they're definitely going to be in danger, that's for sure. But it might not be what you think it is."
The kidnapping will play into the series' potential season three though.
"We have an awesome story planned for Season 3, if we get a Season 3," she says. "I like to know where I'm going before I start writing and so I always try to figure out the next season before I start the season I'm working on. I think what we have in store is a fun, surprising reveal in Season 3."
On My Block is streaming now on Netflix.
Like Just Jared Jr. on FB