Wed, 03 April 2019 at 10:56 am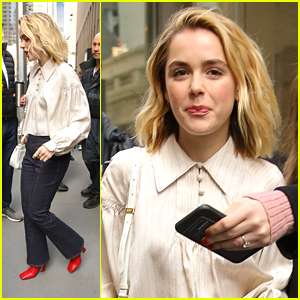 Kiernan Shipka heads back to her waiting car after a morning interview in New York City on Tuesday (April 2).
The 19-year-old actress is out promoting the new season of Chilling Adventures of Sabrina, which kicks off on Friday, April 5th.
Speaking with Den of Geek recently, Kiernan opened up about playing the title character and her decision at the end of the first installment to sign the Book of the Beast.
"It definitely wasn't surrendering, by any means," she shared. "If anything, I think it was taking a step forward in her agenda. It was just what needed to be done."
Kiernan adds, "Sabrina definitely doesn't agree with the antics of the Church of Night and fights strongly to change that. I think that's pretty much always on her mind, to a certain extent."
"It's interesting because you want to play that person like a real human that's making decisions," Kiernan continued about Sabrina's mindset. "Clearly, Sabrina's made some mistakes, but at the end of the day, my main goal is to make her a person. It's not to make people like her. It's not to make people dislike her…My focus is just making her understandable because she's a complex character."
Like Just Jared Jr. on FB