Wed, 03 April 2019 at 12:22 pm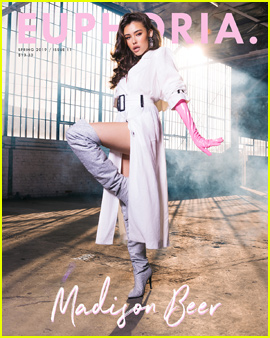 Madison Beer looks stunning on the cover of issue 11 of EUPHORIA. Magazine, available now.
The 20-year-old songstress spilled on her debut album, dealing with negativity and her earlier music. Check it:
On her making debut album: "It's amazing. It's coming out so well and I love every single song so much and they are all so different and so special. I'm obsessed with all my new music. Like, all I've been doing for the past few days is listening to all my music and I've been in the studio – I'm still in the studio right now – so I've just been listening to everything and polishing it all up and making it perfect because I'm quite the perfectionist… which is why it's taken me six years to put an album out. The album is literally me."
On how her earlier releases have molded her into the artist she is today: "I've always loved music and I've always had such a passion for it, so just having a platform that I was able to put something out [on] I was excited for. Of course, now, looking back, I am not the biggest fan of those songs, but at the time, it's like– you can't look back on things you do and regret them, because I think that shaped me to be the artist that I am now."
On dealing with negativity: "I think that a quote I always tend to go back to is 'this too shall pass' and I think that I kind of live by that, because I've gone through a lot of stuff in my life and I feel like I have learned, over time, you can't really think something's the end of the world– because it will probably be passing sometime soon."
For more from Madison, visit euphoriazine.com.
Like Just Jared Jr. on FB