Wed, 03 April 2019 at 11:36 am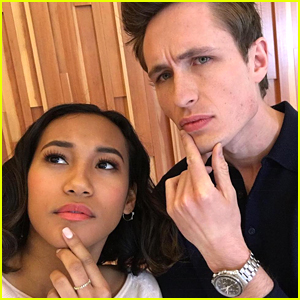 We don't know about you, but we're completely in love with Caitlin and Jeremy on The Perfectionists – and so are their portrayers, Sydney Park and Graeme Thomas King.
The two chatted with Seventeen recently about the duo's relationship and how it's going to change over the course of the first season.
"Caitlin and Jeremy are such a cute little duo," Sydney gushed. "I feel like they're the Prince Harry and Meghan Markle-type of couple."
She explains, "He's a rocket scientist and he's older so she learns from him in a way. He balances her out. But they're really in love and he's trying his best to kind of understand Caitlin. She's keeping a lot of things from him to protect him, but she can't hide much anymore so you'll see their relationship kind of change and how it unfolds is cool and mysterious."
Sydney continues, "They are both relieved, yet Caitlin is kind of closing him off in a way. She's still guarded and she still doesn't know how to feel. [Nolan's death] definitely affects their relationship, it's all unexpected."
Graeme adds that Jeremy is definitely happy that Nolan is gone from their lives: "I think he really hopes that [Nolan's power over Caitlin] is done and they can move on."
The Perfectionists airs Wednesdays on Freeform.
Like Just Jared Jr. on FB