Thu, 04 April 2019 at 7:33 pm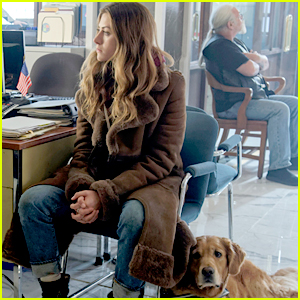 Hands down – the cutest star of In The Dark has to be Levi, who plays guide dog Pretzel.
Perry Mattfeld, who plays Murphy on the series, opened up about working with the golden retriever.
"I'm so in love with that dog, as is everyone," she shared. "I was saying before that there's times in the pilot you see where Murphy's a little rough with her dog, so when we would cut I would pull her aside and tell her, 'You're so talented and we love having you here and you bring so much depth to the character.'"
Perry added that having Levi "is so brilliant and so talented. People think their own dog is cute and smart until you see that dog."
"When we're rolling, our trainer, Vee, she can't always give vocal cues to the dogs, so she has to give a lot of cues from off camera that are just visual cues with her hands," she continued. "Levi can respond to those and put her head down and roll or speak with just a visual cue from the trainer, Vee, without a vocal cue. So, she's perfect."
"She's the star of the show. Levi is really the star of the show and I have no problem with that."
In The Dark premieres TONIGHT @ 9PM ET/PT on The CW.
Like Just Jared Jr. on FB