Fri, 05 April 2019 at 1:00 pm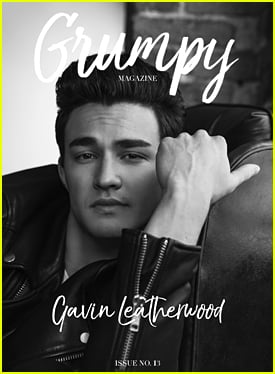 Gavin Leatherwood is back as Nicholas Scratch in the new season of Chilling Adventures of Sabrina, airing now on Netflix.
However, did you know that the name of his character was actually from Marvel?
In his cover feature with the new issue of Grumpy magazine, the 24-year-old actor opened up about how he turned to the Fantastic Four comics for some inspiration.
"It creates a great sense of liberty," he explains about playing an original character for the show. "I looked him up and I think that he existed in a comic book series with the Fantastic Four, as this sort of evil character. I thought that this was really interesting and I try to include some of those elements."
Gavin adds that "it's a lot of fun trying to figure out where Nick exists in this universe!"
He continues, opening up about just who Nick can be: "A dark, edgy badass with a really big, sensitive, soft heart…it's really fun to play with all these different elements and to find moments where he let those layers shine through."
Check out more of Gavin's feature on GrumpyMagazine.com.
Like Just Jared Jr. on FB