Fri, 05 April 2019 at 4:31 pm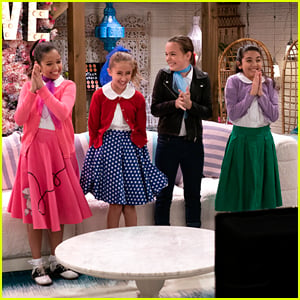 How adorable is this pic from the new episode of Sydney To The Max?!
In the episode, "Caved & Confused", Sydney (Ruth Righi) enlists Grandma Judy (Caroline Rhea) to help her redesign the basement into their very own "girl cave", where she hosts the coolest 50s-themed party with her friends to celebrate her new space.
JJJ spoke with Ruth and Ava Kolker, who plays Olive, ahead of tonight's ep to see what their fave parts were – and it's all about the girl cave!
"I absolutely LOVE everything in Sydney's girl cave and if I could, I would take everything home with me," Ruth gushed. "But one specific area that really caught my eye was the cute seating area by the record player. It is the perfect area to hang and listen to music with your friends."
Ava loved the space too, saying that she loves "the selfie wall but what I loved the most, was the canopy with all the pillows inside."
"In fact, I loved it so much that I included it in my own dressing room and that is my new hangout spot," she added. "I am also obsessed with the selfie wall and I would love to have that in my bedroom at home for sure."
Ruth and Ava also told us about the parties they want to throw one day.
"I have never thrown a themed party but if I could, I would throw a Hogwarts-themed where people could dress up in colors from their house and I would serve chocolate frogs and pumpkin spiced drinks and everyone would get their personalized wand," Ruth says. We'd totally go to that!
Ava added, "I would love to throw a celebrity themed party. Everybody could dress up as their favorite celebrity and walk the 'Red Carpet.' I even want to hire fake paparazzi photographers and make the guests feel all glammed and loved."
"We would try to guess who each person came in as, and it would be so much fun. That would definitely be the party I would throw!"
Sydney To The Max airs TONIGHT @ 8:30PM ET/PT on Disney Channel.
Like Just Jared Jr. on FB