Mon, 08 April 2019 at 3:34 pm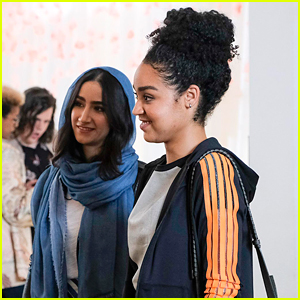 Raise your hand if you're still heartbroken over the fact that Kat and Adena ended their relationship at the end of season two of The Bold Type? Yep, us too.
Aisha Dee is with us too.
"I know that people were very devastated with the end of season two, and obviously I was too," she revealed to Mamamia. "I just cried and cried when I read that script, I kept saying to everyone 'wait, where is this coming from, this makes no sense!' because I just loved them as a couple."
Aisha promises though that "Kat and Adena are not done. Season two is very much the middle of their story in my mind."
Nikohl Boosheri added that Adena will very much be a part of the upcoming season.
"Look I don't even know if I'm allowed to say this next part but, whatever, spoilers ahead! But this will not be the last you see of Adena, season three will very much be a new chapter for these characters."
While they didn't spill a lot, it seems like we have a lot left to look forward to with this couple.
The Bold Type premieres TOMORROW, April 9th on Freeform.
Like Just Jared Jr. on FB