Tue, 09 April 2019 at 12:01 pm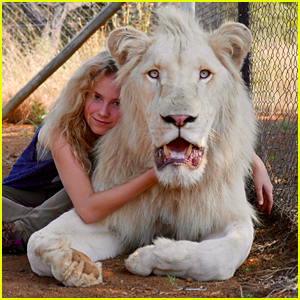 We've got an exclusive clip from Mia and the White Lion you have to see!
The movie centers on 10-year-old Mia (Daniah De Villiers), who has her life turned upside down when her family decides to leave London to manage a lion farm in Africa.
When a beautiful white lion, Charlie (Thor), is born, Mia finds happiness once again and develops a special bond with the growing cub.
When Charlie reaches three, Mia's life is rocked once again as she uncovers an upsetting secret kept hidden by her father. Distraught by the thought that Charlie could be in danger, Mia decides to rescue him.
The two friends set out on an incredible journey across the South African savanna in search of a sanctuary where Charlie can live out his life in freedom.
A cool fact about the film is that it was filmed over the course of three years so that Daniah could develop real relationships with the lions and animals on set.
She and her entire family packed up and moved to Johannesburg to be part of the production.
Mia and the White Lion opens in select theaters on Friday, April 12th.
Like Just Jared Jr. on FB