Tue, 16 April 2019 at 7:57 pm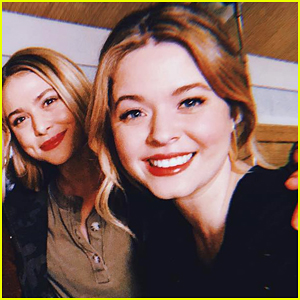 Hayley Erin's The Perfectionists character, Taylor Hotchkiss, is making herself known in a big way on this week's episode – by kidnapping Ali!
In the new trailer, we see Taylor locking Ali in a trailer and driving her away – somewhere…
Hayley opened up about what Taylor's goal, her commonalities with Ali and if we can trust her in a new interview with TV Guide.
"Can I say you should trust anyone? That's a lesson we should take away from having watched the original series," she joked. "You never know who you should trust. At least Taylor seems to be pretty out in the open about her trustful or distrustful qualities."
Hayley also spoke about how Taylor and Ali are going to meet and take each other after Ali gets out of that trailer.
"I think there's a good chance there will be a confrontation between the two," she teased. "If she wanted to be anywhere else besides that cabin, the trailer or any of the innumerable trees in the forest, she'd be somewhere else. She's not going to give up her hiding life without a fight."
"We immediately know that Alison and Taylor have a lot in common. I find that in relationships, friendships, or relationships with your family that you have the hardest time getting along with the people that you're most similar to," Hayley explained. "While that's going to bring them together, it's also potential for some difficulty in communicating."
The Perfectionists airs Wednesdays on Freeform.
Like Just Jared Jr. on FB