Tue, 30 April 2019 at 3:06 pm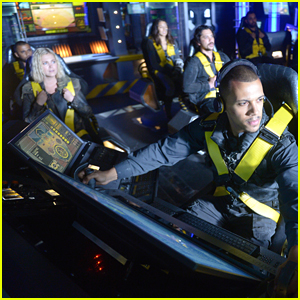 It's The 100 premiere day!!!!
"Season 6 is the biggest reset that we've ever done, by far," showrunner Jason Rothenberg shared in a recent interview with EW about the new season, which sees Wonkru setting feet on a brand new world – literally.
He adds, "We're, in a lot of ways, changing everything you know. Even thematically we wanted to freshen it up. So, before it was about: How far will you go to survive. Now, it's more about: Can we do better? They're going to be held accountable for what they've done. And they hold themselves accountable for what they've done."
Jason also opened up about what the crew will encounter once on the planet, with a gas giant in its' back yard.
"They're very different than anything we've encountered before," he says about the citizens of the moon. "They've been alone on this planet, kind of unchallenged by any other groups of people. They've mastered what it takes to survive on this moon."
However, "our heroes need to know what they know, or they're not going to make it. Here, our heroes are uninvited, they break in essentially, and they are desperate to be asked to stay. Ultimately it's about these new people having to decide whether they're willing to let these people from Earth, who, I think it's fair to say destroyed the planet, stay."
"Can they afford to let that sort of disease of violence spread to his peaceful community? It's a functioning society before our people get there. So one of the fun stories that we're telling is that how these two groups sort of collide with each other and change each other."
The 100 premieres TONIGHT, April 30th @ 9PM ET/PT on The CW.
Like Just Jared Jr. on FB