Sun, 05 May 2019 at 3:33 pm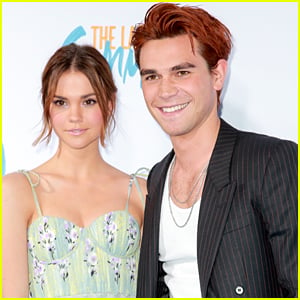 It's safe to say that Griffin and Phoebe's relationship in The Last Summer is tested – especially when you through in the fact that their parents' were having an affair.
KJ Apa and Maia Mitchell spoke with THR about their characters' relationship and what knowing about the affair means for their future together.
"Griffin kind of fools his way into Phoebe's life. She wasn't really looking for a relationship. She had all kinds of trust issues with men anyway, but it was his charm that did it. It was inevitable," Maia shared about the couple.
She continues that Phoebe is using "her film as an excuse to not get involved with anyone. I don't think it was entirely because of her film. I think a lot of it had to do with her trust issues."
"She's been let down by a lot of men in her life, and so I don't think she's really open to a relationship at all for that reason. She's focusing on herself, which is kind of an easy way to keep her distance."
Maia and KJ also both agreed that they do think Phoebe and Griffin end up together.
"We left wondering how they will go moving forward and that speaks to the time that the movie is set, which is that in between period before college and before the unknown, so you're left wondering what might happen," Maia says. "But their relationship is tested and if you can get through something like your parents having an affair with each other, you can get through anything."
"I definitely think that they end up together," KJ added. "I think there's so many different possibilities that could happen, but I have hope that they would end up together."
The Last Summer is streaming now on Netflix.
Like Just Jared Jr. on FB