Tue, 07 May 2019 at 3:02 pm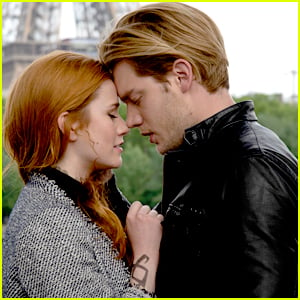 WARNING: SPOILERS AHEAD! DO NOT READ IF YOU HAVE NOT WATCHED THE SERIES FINALE OF SHADOWHUNTERS!
The series finale ending of Shadowhunters left us not so much devastated that it was all over, but more hopeful of what could happen next.
If you didn't see the finale, Clary sacrified her last rune to kill Jonathan with a hug; and by doing that, she also gave up her memories of the Shadow World after being stripped of her status by Ithuriel. However, at the end of the two and a half hour special, we saw Clary reconnect with Jace one year after the events.
Showrunners Todd Slavkin and Darren Swimmer opened up to ET about what could've happened next after the cliffhanger, and what could've been next.
"It felt so right that the ultimate sacrifice that Clary had to do would be killing her brother and saving the world at the same time," Todd shared about the finale. "We knew that he couldn't die by anyone else's hand. And we knew that it would be incredibly heartbreaking that his sister – this human that he's loved so much and he's wanted her love for so long – is the one who finally wanted to take his life."
He also opened up about what would've been next for Clace.
"The expression of the love between Jace and Clary is such an integral part of the series and we knew we had to pay it off in a huge way," he shared. "The idea that the love that they have is even more powerful than the wrath of the angel Ithuriel is just such a great statement. Love conquers all. Love conquers darkness."
Darren adds, "I would also add that we see the inevitability of Clary as a Shadowhunter. At the end of the day, her fate is that she'll be a Shadowhunter. We don't completely answer that question or present that, but I think that's what the takeaway is. She'll be a Shadowhunter."
"In the fourth season that we were hoping might somehow materialize itself when we wrote this, we would see Clary and Jace working together to sort of re-train her and get her to back to Shadowhunters status 100 percent."
"We'd have this new Clary with the cool hair, and the awesome outfit, and she's kind of like a strong young woman who's found herself as an artist, but knows there's something missing in her life," Todd shared. "Even just like in the pilot, there was this feeling that would just start all over, but they would be more adult now."
Like Just Jared Jr. on FB