Mon, 03 June 2019 at 6:47 pm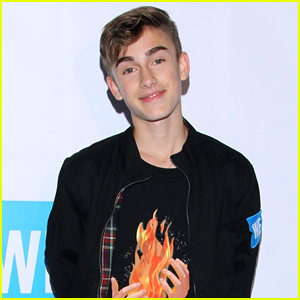 Johnny Orlando just released a Snapchat lens that lets fans live his latest music video!
The 16-year-old singer dropped the video for his fan favorite song, "Waste My Time," on Saturday (June 1) and, in honor of the surreal video, he's also launched a global Snapchat lens that mirrors the style of the video.
The "Waste My Time" video plays with the concept of time, including freezing and stopping it, and the Snapchat lens lets fans step into that world – digitally, at least.
"Playing 'Waste My Time' live during the Teenage Fever tour has been amazing. It is the song fans seem to love most from the EP and the energy in the room when we start to play it is wild," Johnny said. "We wanted to create a video complemented by a Snapchat lens that gives everyone a chance to play with the feeling we tried to create when writing the song – when being with someone makes time feel like it has completely stopped."
You can download the Snapchat lens here.
Watch the "Waste My Time" music video:
Like Just Jared Jr. on FB