Fri, 07 June 2019 at 5:17 pm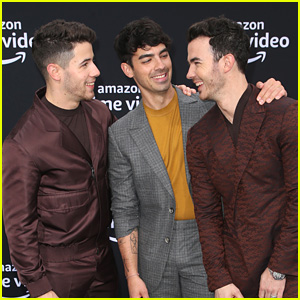 All of the new songs on the Jonas Brothers' new album are amazing, but one that stands out is "Comeback".
Talking with Zane Lowe on Apple Music's Beats 1, Kevin, Joe and Nick revealed why it was this track that they were really stoked about having on Happiness Begins.
"This is one that I'm most proud of. We use pronouns in this that are sort of more towards the relationship, but I think it fully represents kind of where we were at saying, 'Come back to me. I'll come back to you. We've been through a lot in the journey that we're on, but it led us back here and it touches on our roots of kind of growing up playing music in church in that it is, a hymn formed the chord structure and even the melody,'" Joe shared. "And I'm just really proud of this one."
Nick added that the song can be "an anthem for our fans because this was a journey that led us to a great relationship with each other as a band and brothers and we want to deliver great shows live for these fans and we have a really special moment in the show dedicated to this song."
The band also opened up about writing the album, which was just released today – days after their new documentary, Chasing Happiness.
"We went into every session writing this record thinking we really hope we can just bottle up happiness and bring it to the world," Joe says. "We didn't know that that would actually become the title of the album. That the album cover would be sort of our visual representation of how we feel, which is that with each other we can get through anything in the life ahead of us is looking really bright and positive, and we hope you feel that way too when you listen to this."
Like Just Jared Jr. on FB