Wed, 12 June 2019 at 12:28 pm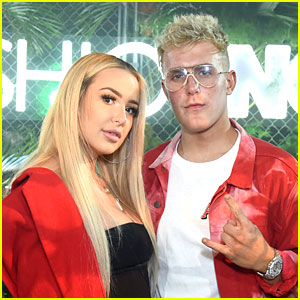 Jake Paul is setting the record straight about his relationship with Tana Mongeau in his new series Team 10 Uncut.
The YouTuber shared the behind the scenes of when the rumors of the possible couple first got stirred up when she posted a Snapchat in his bed.
"I know Jake is going to say I'm doing this for clout, which is so f–king annoying," Tana says in an interview. "No, I came over to hang out, I looked cute, I took a Snapchat story. I'm sorry your f–king bed's famous."
"I know she did this on purpose. She's not going to admit it," Jake said. "Tana did this on purpose."
"I really like trolling the internet and this is a perfect example and way to do that, because it's just fun. It's somewhat real but at the same time just messing around with it, and I don't know, we'll see where it goes," he added.
After talking to Tana on the phone, the two decided to just go with it, ride it out, and play it up to get more views.

The secret behind our relationship..
Like Just Jared Jr. on FB