Mon, 01 July 2019 at 11:37 am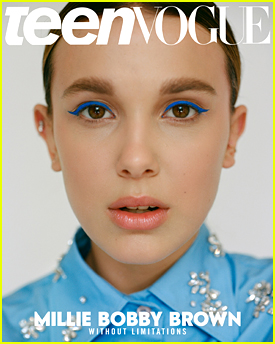 Millie Bobby Brown rocks electric blue eye shadow on the July 2019 cover of Teen Vogue magazine.
The 15-year-old Stranger Things actress is opening up about season three of the Netflix series, the causes that are dear to her heart and more. Check it:
On what attracts her to projects: "I think it's important to make sure that I'm attaching myself to the right material, things that are appropriate for my age, characters that I relate to and connect to, and things that have an underlying message. I mean, something that I feel so passionate about, and the reason that I love working with UNICEF is that I feel really passionate about underlying issues and messages through my work. And with Stranger Things, it's embracing yourself. Bullying goes on in schools, bullying goes on online, but in Stranger Things, it's really about embracing your individuality. And in Godzilla: King of the Monsters, the underlying message is conservation for animals in nature and climate change. And I think that I love being part of projects that have messages."
On what draws her to particular causes: "I don't think there's a limitation at all to what you can stand for. I mean, for me, there are so many issues with children's rights, you can't just pinpoint one thing. Yeah, there's bullying, and yes, there's exploitation, and yes there's the fact that there's no clean water in some countries that are not as privileged as others. I can't pin myself to one thing because I will feel immediately like I'm being drawn to something else."
On whether she worries about what will become of Eleven and all of the characters on Stranger Things: "With Stranger Things, we're a little bit different than, say, Game of Thrones because we go into a meeting and we talk about what I want to do, what the kids want to do…So we have a big say in what we want to do with our characters because they respect our decision and our opinion… That's what I love about the creatives of Stranger Things, I think they have an enormous amount of respect for youth, and they let us, they shine a light on our voices. They don't silence us, they let us choose our path to our characters. Which is cool."
Stranger Things season three is out on July 4th.
Head to TeenVogue.com for more of Millie's feature!
Like Just Jared Jr. on FB