Fri, 05 July 2019 at 3:42 pm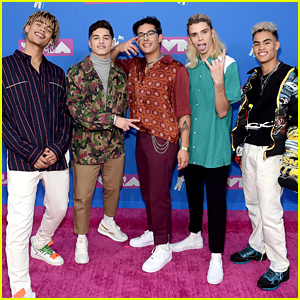 PRETTYMUCH are sharing their behind-the-scenes secrets!
The guys – Brandon Arreaga, Edwin Honoret, Austin Porter, Nick Mara, and Zion Kuwonu – recently sat down together for an interview with radio host Zach Sang and got real about their songwriting process.
During the chat, Brandon revealed that the guys don't write all of their songs as a group.
"When there's five people, it's a little too overwhelming…because we all have ideas…What I love is that everyone brings something different to the table…[For example,] I love working with Austin because he will say something that I would never think of…and then I have a whole new outlook," he explained.
That doesn't mean that creating a PRETTYMUCH bop isn't a group effort though. Edwin added that the guys have all learned a lot from each other as artists since forming the band.
"In the beginning, we all had our strengths and weaknesses but now living together, and pushing each other and motivating each other, we've gotten to a point where we're molding into…my strength…becoming his strength…learning from each other, little by little," he said.
Listen to PRETTYMUCH's latest EP, Phases, here!
Like Just Jared Jr. on FB