Mon, 15 July 2019 at 5:20 pm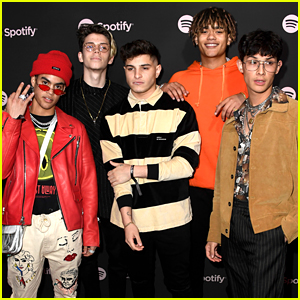 PRETTYMUCH are totally open with their fans.
The guys – Brandon Arreaga, Edwin Honoret, Austin Porter, Nick Mara, and Zion Kuwonu – revealed some of their "firsts" during a new interview with BuzzFeed Celeb.
Brandon took the first question and revealed the first time he was ever recognized in public.
"One of the first ones I can remember is actually being in Target," he said. "Yeah I was in Target, I was grabbing stuff for the house, actually and I was so thrown off because somebody called my name and I thought it was somebody, like a friend I knew, and then when they asked for a picture I was like…oh, this is…I'm supposed to take a picture with you now. So I was probably really awkward."
The guys also shared their first celebrity encounters, the first bandmate they go to for advice, first celebrity crushes, and more.
Read the secrets of PRETTYMUCH's songwriting process here!
Like Just Jared Jr. on FB