Wed, 17 July 2019 at 5:22 pm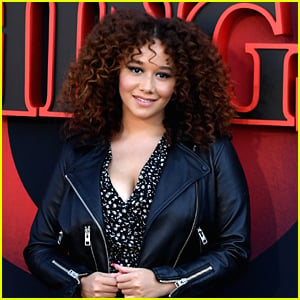 Talia Jackson is opening up about wearing a wig on her Netflix show Family Reunion.
The actress and singer received a lot of comments and backlash about covering up her natural curly hair, and took to Instagram to address the comments.
"Hi everyone! This is me getting my wig put on for episode 103. I felt the need today to address the numerous comments on different social media platforms about how much fans disliked Jade's wig. Trust me, I'm not a fan of the wig either, it was itchy and uncomfortable," Talia wrote. "We actually straightened my own hair and did not use a wig on the first episode we shot, which was episode 107. But my hair got damaged badly and I lost a lot of my curl pattern."
"So in order to save my curls and repair the damage we had to use a wig. The show's creator @themegadiva wanted Jade to be on a journey from Seattle where she did not embrace her natural hair, to Columbus GA where she learns to love her natural God given beauty. I encourage all of you to especially watch Episode 108 where it explains the transformation of Jade when she enters a beauty pageant. Thank you again to all the fans of the show ❤️and the support I personally have been receiving for the backlash. I love you all❤️," she added.
"You are a gem. A star. I'm so proud to know you and I'm so proud to play your momma! Continue to ride and shine bright my love :) ❤️💕," her co-star and TV mom Tia Mowry commented.
Like Just Jared Jr. on FB