Fri, 19 July 2019 at 3:25 pm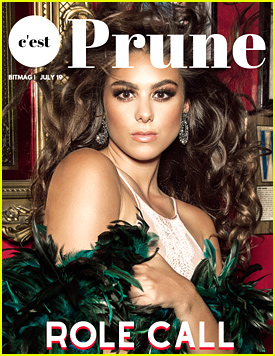 Kira Kosarin looks so glamorous in her new feature with Prune magazine.
The 21-year-old actress is opening up about her upcoming projects, music and much more. Check it:
On treating The Thundermans like film school: "When I was 16, I was accepted to Stanford to study psychology, but shortly thereafter Thundermans got unexpectedly extended for more seasons, and I ended up staying in LA to finish the show's run. I decided that if I was going to stay in LA keep working, I was going to treat my set like a university, and spend every free moment using the resources around me to learn the ins and outs of television production. I got to learn the sitcom world as an actor first, then behind the scenes as I got to shadow some incredible directors, and learn from my coworkers and superiors alike. I'm now using that knowledge to direct; one of my biggest goals in the next couple years is to direct an episode of a sitcom for Nickelodeon, and share with the next generation of young actors the things I wish I knew when I started."
On joining Light as a Feather: "[It] was a major departure from the projects I've worked on in the past, and diving into that world was really exciting and gratifying. After booking the role of Nadia I went to watch Season 1 for research, but after a few episodes I was genuinely hooked as a fan. Getting to work on Season 2 after getting so invested in the storyline was a very cool, unique experience for me."
On fans' reactions to her debut album: "The response has been amazing, and so much more than I could've hoped for! Especially with Vinyl… I wrote that song when I was 16 and could never have imagined that so many people would feel a connection to it all this time later."
For more, head to PruneMag.com.
Like Just Jared Jr. on FB