Mon, 29 July 2019 at 9:45 pm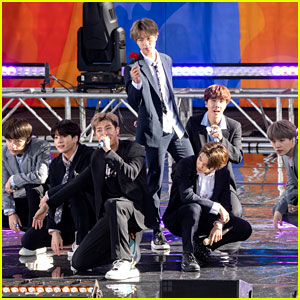 BTS is doing their part to help end to violence and bullying.
The popular South Korean group and UNICEF posted a video to celebrate UN International Day of Friendship.
The video features BTS singing their hit single "Answer: Love Myself" over fictional stories of young people encountering violence, bullying, and fear in and around schools, sending a message of friendship and support.
"Our LOVE MYSELF campaign is all about encouraging every young person to find the love from within themselves and spreading that love to others," BTS said in a press release. "We want everyone to take part in ending violence by sharing love and kindness."
BTS's LOVE MYSELF campaign has raised over $2 million to help UNICEF #ENDviolence.
UNICEF is urging young people leave a kind note for someone – in real life or online – and share it for others to see.
"Children and young people have told us time and again that being treated with kindness and respect helps them to feel safe in and around school," UNICEF Executive Director Henrietta Fore said. "Every day students face a range of violent acts, from bullying and physical attacks to corporal punishment, sexual assault and harassment online. By being kind, children and young people can show their support for each other and brighten someone's day. We're grateful to BTS for their continued commitment to making sure that no child is afraid to go to school."
Watch the video now.
READ MORE: BTS Give a Powerful Speech During UN General Assembly in NYC – Watch Now!

BTS 💜 show the power of love and kindness | UNICEF
Like Just Jared Jr. on FB