Wed, 31 July 2019 at 11:25 am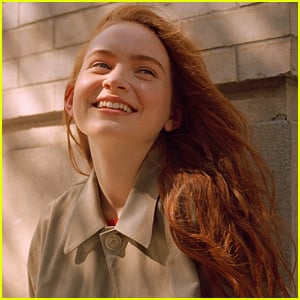 Sadie Sink shows off her brilliant smile in this pic from her new feature with Teen Vogue magazine.
The 17-year-old actress is opening up about Stranger Things, her style and what's next for her career. Check it:
On the challenge of not revealing Stranger Things spoilers: "It was really hard not to say anything about Billy [in interviews]. Even now, just saying that right there, I still got nervous. I'm still not used to being able to talk about it openly."
On staying close with fellow cast members between seasons amid hectic schedules: "It is hard when we're not filming, and we're not seeing each other every day. It's like school when you're seeing the same people every single day, and then summer comes along and you don't see them at all and it's kind of sad. But what's so great about the cast is that the next time I see everybody, we're all going to pick up right where we left off and nothing's ever weird."
On her "always evolving" style: "I go through so many different phases just like every teenage girl does. Right now I'm just in a very bright summery mood. But yesterday I was wearing black jeans and a white crop top and I don't know, these weird Crocs. But I think that's what's so fun about fashion, that I don't have to be defined by one particular style. It's whatever I'm feeling that day."
On what she might pursue in the future: "As much as I've always dreamed of going to college, I have to think about whether it is the right decision for me. But everyone's different and everyone can make that decision for themselves. College is right for some people, and it's not for others. I shouldn't rush into it just because that's what everyone does after high school is you go to college."
Read more from Sadie's feature on TeenVogue.com!
Like Just Jared Jr. on FB