Thu, 01 August 2019 at 4:12 pm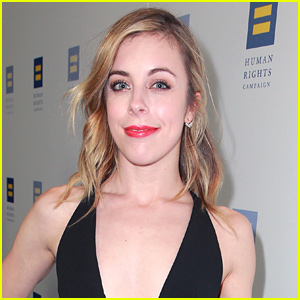 Ashley Wagner is bravely opening up about her sexual assault, which happened when she was just 17 years old.
The now 28-year-old Olympic figure skater detailed how it happened, when and just who it was, in an essay for USA Today.
"It was the middle of the night when I felt him crawl into my bed. I had been sleeping and didn't move because I didn't understand what it meant. I thought he just wanted a place to sleep. But then he started kissing my neck. I pretended to be deep asleep, hoping he would stop. He didn't. When his hands started to wander, when he started touching me, groping my body, I tried to shift around so that he would think I was waking up and would stop. He didn't," Ashley wrote. "Looking back now, I didn't understand that his hands knew the way around a woman's body because he was 22. He was a man. But I was just a girl. When he continued to wander further over my body, I started to get scared because he was so much bigger than I was, and I didn't know if I could push him off. I just continued to lie there pretending to be asleep, hoping that he would get bored and go somewhere else. He didn't."
Ashley then felt herself starting to cry. "I told him to stop. And he did. He looked at me for a few seconds, quietly got up and left the room. All of this happened over the period of about five minutes. That is such a small amount of time, but it's haunted me ever since."
She went on to name him: John Coughlin, who died by suicide earlier this year.
"I was sexually assaulted by John Coughlin. Over the past few months, as I decided to tell this story, I wrestled with using John's name. He was a prominent figure skater who died by suicide in January, and so I fully understand the issues with naming him. But a name can shape so much of how my story is perceived. Without it, I know people will question my credibility."
She added, "But this is not about a name. This is about the environment that allowed for that act to happen. I want the issue to feel real to people, and for them to understand the dynamics of my sport, where uncomfortable power imbalances thrive to this day."
Like Just Jared Jr. on FB