Tue, 06 August 2019 at 9:29 am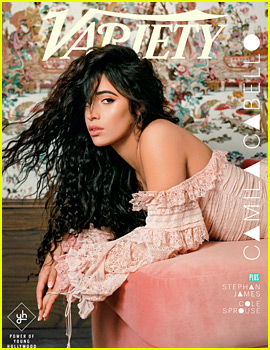 Camila Cabello is on the cover of Variety's Power of Young Hollywood issue.
The 22-year-old singer spoke about Shawn Mendes, Taylor Swift, Fifth Harmony and more. Here's what she shared…
On how her love life informed her songwriting on her next album: "Falling in love is like an infinite amount of levels and layers and angles. I fell in love and just opened up. Everything was written in present moment."
On how her duet with Shawn Mendes, "Señorita," came about: "I've known Shawn for such a long time, and it's so much fun getting to work and do things with somebody who means a lot to you."
On why she chose to speak out in defense of Taylor Swift on Instagram after the sale of Swift's masters to Scooter Braun: "Because she is my friend. And someone in her position — which is, like, on another level — I can't imagine how many times she's been let down by people, or gotten disappointed by friends who were just using her, or people who just wanted to be friends with Taylor Swift or whatever. I'm happy to be there for her as a person. Like,'Even when it's not popular, I've got you. I'm, like, your real friend.' With the Scooter thing, I feel her frustration. Getting f*cked over like that and not being able to have her masters? That sucks. When you think about how artists have to slave to make these things, and then you don't own them, that is kind of a ridiculous concept."
On why she hasn't kept in touch with fellow 'Fifth Harmony' bandmates: "[It's] not because there's any animosity left — just the courses of our lives have drifted. But if I saw any of them at an awards show, I would say hi and it would be totally cool. It feels like there's been a reset just because of the amount of time that's passed."
For more from Camila, visit Variety.com.
Like Just Jared Jr. on FB