Wed, 07 August 2019 at 9:49 pm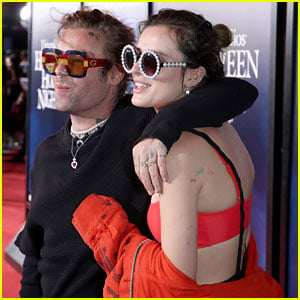 Bella Thorne is revealing her ex Mod Sun's texts about posting their wedding video for her book.
The Famous in Love star and the rapper addressed the text exchange, which took place on May 2, on Twitter on Wednesday (August 7).
"Seriously…..don't use our wedding video to promote ur book," Mod wrote, referring to Bella's Instagram video (see her post below) and book Life of a Wannabe Mogul: Mental Disarray. "Don't disrespect my idea of what love is…if u were faking it that day then u really are an amazing actress. Stop being intentionally hurtful to people healing."
"After we broke up..,U just keep lying and u won't stop, I was trying to remember how beautiful we were sad," Bella captioned the screenshots below in respoonse. "Sad u brought us to this."
"That text was MAY 2 when we were still trying to work things out..look at what ensued after that," Mod Sun replied. "I said u could THEN + I'm shocked u did NOW. What I think is disgusting is ur PS remark where u lied + discredited our entire marriage in one sentence. I haven't lied once u know it."
He added, "Also, now might be a good time to mention why at this point (3 months later) I wouldn't want to be used in the promotion for ur book…. I did your artwork + u claimed u did it! That's so disrespectful. I can't support. Anyone else notice this?"
"It's so sad 🤕🤕 don't u remember mod u broke up w me April 15th the anniversary of my fathers death? Cmon now," Bella Thorne responded.
After we broke up..,U just keep lying and u won't stop, I was trying to remember how beautiful we were sad. V sad u brought us to this. pic.twitter.com/VRtZ1qeLJh

— BITCHIMBELLATHORNE (@bellathorne) August 7, 2019
Click inside to see Bella's Instagram post…
Like Just Jared Jr. on FB