Wed, 07 August 2019 at 3:38 pm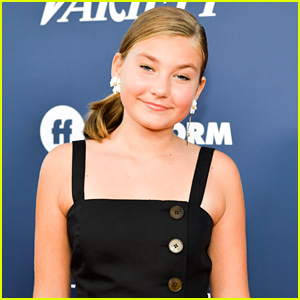 Anna Pniowsky is the young star of new film, Light of My Life, and JJJ is obsessed with her!
We caught up with the 14-year-old actress to learn 10 Fun Facts about her and more about her new movie, which is out in select theaters on Friday, August 9th.
"Every project I have worked on has been amazing and special," Anna tells us. "I've met so many incredible people and had so many experiences, I'm so lucky. This movie, though, changed my life."
She added, "I learned so much working with Casey [Affleck]. I grew so much as an actress and the story is so powerful to me. My heart and soul is in Rag and I hope people will connect with this movie, and that it makes people feel and think."
Check out 10 Fun Facts about Anna below now!
I'm originally from Winnipeg, Canada, one of the top 3 coldest cities in the world – the weather is cold but the people are warm ❤️
I'm a vegetarian, and my favorite food is ice cream.
My hair was down to my waist before I cut it all off for my role in Light of My Life. It was hard but I would do it again in a heartbeat!
My sister Abby and I are super close…. my 2 brothers are ok too 😁
I was pooped on by a bird and bitten by a crab… at the same time.
I'm terrified of bugs but I won't let my parents kill them.
I have 2 rescue dogs, Zappy and Wiggles. They are total opposites – Zappy is chill and loves everyone and Wiggles is scared of everyone except us. They are both super cute and cuddly though.
In our second movie together, my sister's character killed my character. In our third movie together, someone was trying to kill both of us. I seem to play characters that are in danger a lot 😱.
My favorite place to be is the beach and when I'm not there I'm by the pool.
I have always wanted to see the Eiffel Tower and this year I got to go! It was a little scary being up so high but it was so beautiful.
FYI: Anna is pictured below at Variety's 2019 Power of Young Hollywood event at The H Club Los Angeles on Tuesday night (August 6) in Los Angeles.
Like Just Jared Jr. on FB