Wed, 07 August 2019 at 9:23 am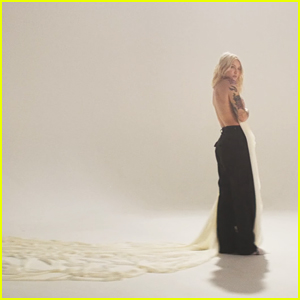 Julia Michaels is sending a message of positivity in the official music video for her latest single "Body"!
The 25-year-old Grammy nominated singer recently opened up about the inspiration behind the song, off of her Inner Monologue Part 2 EP, and her own experiences with learning to love herself.
"I think everybody has insecurities about their body. I'll be getting ready and I'll wear something and nothing feels right, and then I end up not going because I'm so self-conscious," Julia told Teen Vogue in an as-told-to essay.
"I wanted to write a song about my insecurities because I can't be the only one who feels this way. I got in the studio to work on 'Body,' and I just started thinking about those moments," Julia explained. "I sang, 'I'm sorry I'm a b*tch to you,' which is now the first line of the song addressing the negative internal dialogue I have with myself in those moments. Nobody really talks about that intense toxic relationship with yourself. They talk about toxic relationships you have with other people; in movies and music videos and songs, you see people fighting, you're throwing glasses at each other and all of this stuff. But I think the relationship you have with yourself can be the most toxic."
"Surprisingly, I'm the most comfortable in my body when I'm performing, which is so funny because I used to have such awful anxiety and such horrible stage fright," Julia Michaels continued. "Now I can be onstage and sing with a bunch of people and feel absolutely myself, which is really special."

Julia Michaels – 'Body' (Music Video)
Like Just Jared Jr. on FB