Fri, 09 August 2019 at 11:18 am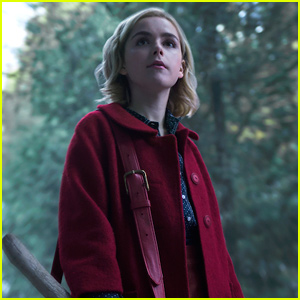 Filming on The Chilling Adventures of Sabrina is happening right now in Vancouver and we're getting so excited about the return of the series on Netflix.
However, showrunner Robert Aguire-Sacasa says that the show might not be back in time for Halloween.
Speaking with The Wrap, he shared that he doesn't know a premiere date just yet.
"I don't actually know. I don't think we'd be ready for Halloween. I have no idea, not a clue," Roberto shared. "We are writing episode 8, we are starting to shoot episode 6, so we're nearing the halfway mark. And that's been going great, I'm really proud of those episodes, they're really, really fun."
He did add though, that the upcoming episodes are going to be hellish – literally.
"I think it's safe to say that we are going to Hell, yes. We're going to Hell. It's very fun. It's very fun. It's dangerous, but it's really fun."
As for the couples on the show and just who Sabrina, played by Kiernan Shipka, will be with at the end of it all –
"It's funny, I love both those guys…I love Gavin [Leatherwood] and I love Ross [Lynch]. I think probably, I ship both couples."
Roberto added, "I have a soft spot for Harvey because he's Sabrina's longtime boyfriend in the comic books, but I cannot deny that Sabrina and Nick are a great, potent match. So yes, there is reason to hope for Harvey and Sabrina shippers. But Sabrina and Nick are pretty undeniable."
The Chilling Adventures of Sabrina seasons one and two are streaming now on Netflix.
Like Just Jared Jr. on FB