Sat, 10 August 2019 at 4:39 pm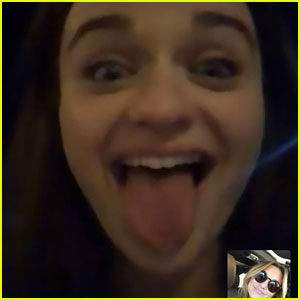 Hunter King totally guilted her younger sister Joey King into FaceTiming her!
The Life in Pieces actress shared the story with fans in her Instagram Stories on Saturday (August 10).
"You ever had someone like, group text you and then you go to FaceTime 'em and they don't answer?" Hunter says. "And then you try 20 minutes later and they still don't answer, but then they text you in the group chat again? I mean, I'm not naming names but… Joey."
"Let me just also say that it's not like this person was like, 'Hey, can't FaceTime, sorry, I'm in the library,' or whatever," Hunter continued about the The Act star. "No, that said person just ignored my FaceTime."
Hunter added, "Look, I know that I'm a sensitive person, I know that about myself, I am who I am, but in my defense, I haven't seen her in a long time, and I just miss her and, you know, sometimes you just want to have, like, a face-to-face-ish conversation. And that's all."
"I'm gonna keep doing this until I can guilt her enough to call me," Hunter finished.
Looks like it worked! See the screenshots in our gallery.
ICYMI, see the epic prank Joey King recently pulled on Hunter King!
Like Just Jared Jr. on FB