Mon, 26 August 2019 at 11:53 am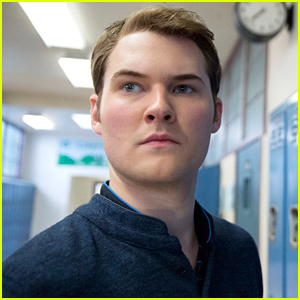 13 Reasons Why tried to show us a different side of Bryce Walker in the new season.
If you watched, the character, played by Justin Prentice, tries to make amends for his actions, but he ends up defaulting back to his hateful ways.
"Obviously he was – with reaching out to Jess – he was met with walls, rightfully so, and did not know where to go," Justin shared with ET in a new interview. "I don't think his response nullifies what he had learned up until that point, emotionally, how much he had grown, I just think that Bryce is pushed to default back on his own behavior in certain circumstances and you see that with different characters."
He continues, "Even though he can be loving and empathetic towards one character perhaps, you know, that does not mean that he won't default back to his years of being the alpha aggressor and provoked. I think this is a moment where he is provoked and he just got his a** handed to him… Yeah, it was really interesting and I thought it was done really well. I think it was an interesting way to end it."
Justin also revealed that he knew Bryce's story was coming to an end ahead of filming the third season. But will he be back for the final season?
"I feel like we have told a good bit of Bryce's story," Justin says. "I feel like there is a nice bow on his storyline and the audience doesn't probably want to see much more of it."
"We've seen enough of Bryce. I think we laid it all out there. We got to see the a**hole side of him the first few seasons, and now we get to see the other facet of Bryce — or at least him trying to at least hone another facet," he adds. "I think he was been pretty well explored and as an actor, I feel relief in moving forward with my life, and put everything out there with the character."
13 Reasons Why is streaming now on Netflix.
Like Just Jared Jr. on FB