Tue, 27 August 2019 at 3:43 pm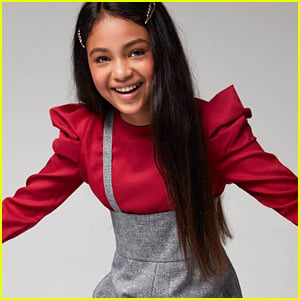 If you've seen Hobbs & Shaw in theaters, you might be officially obsessed with the young girl who plays Dwayne Johnson's daughter, Eliana Su'a – and so are we!
JJJ sat down recently with the 11-year-old actress to learn more about her role as Sam Hobbs in the film, and even more about her!
Hobbs & Shaw centers on Lawman Luke Hobbs and outcast Deckard Shaw, who form an unlikely alliance when a cyber-genetically enhanced villain threatens the future of humanity.
Learn 10 Fun Facts about Eliana below now!
My first acting experience was when I was 3-yrs-old. I was in a video that parents used to potty-train their kids through sign language and dance. I don't think I was even potty trained at the time!
My favorite color is yellow because it reminds me of the sun, and the sun makes me happy. Even the comforter on my bed has a sun with a happy face on it.
My name, "Eliana", is of Latin origin and means "daughter of the sun". Go figure!
Have you ever been to a Luau and seen a fast hip shaking dance? It's called Tahitian dancing. It's one of my favorite styles of dancing that I can do. You can also find me dancing hip-hop , contemporary and the Samoan Siva. Acting and dancing are my favorite things to do!
My middle name is "Sauniatu". I'm named after a beautiful village in Samoa where my relatives are from.
Click inside for five more fun facts about Eliana Su'a…
I'm naturally very curious. When I was 4, my family and I were staying at a hotel when I noticed a big red handle and wondered what would happen if I pulled it. I quickly learned that it was a fire alarm! The bad thing is, it was 6 am, in the middle of the winter and people had to evacuate to the outside into the snow. They were not happy.
I've had the same ring on my finger for 2.5 yrs. and I plan to wear it until it doesn't fit anymore. The ring says "CTR" which means Choose The Right. I even wore it in all my scenes of Hobbs & Shaw.
I've lived in Florida for 5-years. Living close to the beach gives me the opportunity to learn how to surf every day. However, it wasn't until I went to Kauai to shoot Hobbs & Shaw that I learned how to surf! Now I can hardly wait for surf season.
I love pickles and olives, I could eat them as a meal. I especially love the green olives with the peppers in them. Yum!
I'm part Samoan/Mexican from my dads side, and Argentine/Italian from my moms side.
Like Just Jared Jr. on FB