Tue, 27 August 2019 at 4:55 pm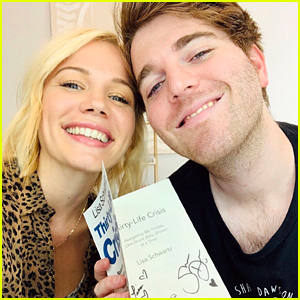 Shane Dawson and his ex girlfriend Lisa Schwartz are reminiscing about their past!
The former YouTube couple sat down to talk about her new book "Thirty-Life Crisis" which details a lot of their time as a couple from 2011-2015.
In the video, Shane and Lisa remembered some of their good times, as well as some of their not so good times, including their breakup.
"Breakups are so awful, and the one with you is awful because it was just so painful," Lisa says. "But at the same time, then I was proud of you. This is complicated, many layers."
"There was a lot of mental stuff going on in that moment," Shane added.
"There was a lot of confusion from both of us, but I feel like at the heart of it, we just, we're family. We figured out how to make it work," Lisa continued.
Lisa even added how happy she is for Shane now and his relationship with his fiance Ryland Adams.
"You're the best version of yourself now," she said. "I feel like you're you now, Ryland's so wonderful and you guys are so lovely. It genuinely makes me happy. It's also one of those, 'Oh okay, we did it. We did the right thing.'"
Like Just Jared Jr. on FB