Sun, 01 September 2019 at 8:30 pm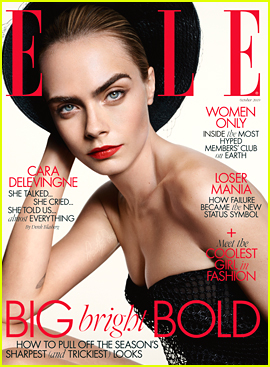 Cara Delevingne takes the October cover of Elle UK, which hits newsstands this Thursday (September 5)!
The 27-year-old actress opened up to the mag about transitioning from modeling, being in love, her favorite fashion moments, and more. Check it out:
On moving from modeling to acting: "Fashion really f—ed me when it came to acting. When I did my first film – Anna Karenina, which I didn't have a speaking part in – every time I was on screen, the director (Joe Wright) would come up to me and say, 'Cara, you're modelling again. Stop trying to look pretty.' I was an extra with 60 other people on screen at the time. I was like, 'But what do you mean?' And he'd tell me, 'You're not in the moment, you're just trying to look hot.' I never thought I did that. Modelling makes you know where the camera is at all times, and you have to forget that when you're acting.'
On being in love: "I'm just better when I'm in love. That doesn't have to mean with someone. It can also mean with myself. It just feels incredible when you're not alone, when you're facing the world with someone else. I don't want to be so secretive that people think I'm ashamed of anything. But I've never been in a relationship where things are so public, or where I posted pictures of someone else. This seemed different. We had gotten to the point where we had kept it a secret, or at least not wanted attention, and now I feel like I'm not going to not be proud."
On her most memorable fashion moments: "One of the best and worst moments was shooting my first Burberry campaign with Kate [Moss]. It was terrifying! How do you get your photo taken next to her? It's like shooting with a panther. She's the queen of the set but also she might eat me. I was in awe, but trying to get the shot. Every time I was on set, I'd be staring at her instead of looking at the camera."
For more from Cara Delevingne, head to ELLE.com/UK!
Like Just Jared Jr. on FB