Fri, 27 September 2019 at 5:23 pm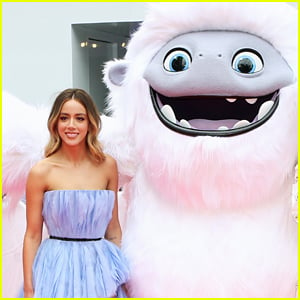 Chloe Bennet has a brand new film out in theaters this weekend called Abominable, and it's actually already making history.
In her latest Instagram, the actress explains just how:
"Growing up I was a half Chinese tomboy who was stubborn, curious, adventurous, and fiercely focused on being me," Chloe starts. "When I watched tv or movies I never saw a reflection of that young girl, in spirit or ethnicity. I thought I was less than because I wasn't white enough or girly enough or asian enough. I didn't fit in. But most importantly…I just didn't SEE a young girl want anything more than to find her Prince Charming… there was little content about girls just trying to find THEMSELVES."
She continues, Today @abominablemovie comes out! To most of you, this will be another yeti movie, and you won't think twice about its meaning. But for ME this movie is emblematic of so much more. It is the first animated movie to star a Chinese girl on screen AND off since Mulan (shout out to my dear @mingna_wen 💕) and it's a film about a young girl trying to figure herself out. Learning about who SHE is. How to communicate with her family, how to be a better HER, in a messy, beautiful, adventurous way."
"I've been working on this movie for about three years now, and when I started, I was in a terrible place. Mentally, emotionally, I felt like I lost myself in an unhealthy pressure cooker that IS this industry, that IS this world we live in….But then Yi came along… and voicing her kinda rocked my world," Chloe added. "She was a spitting image of who I was as a kid inside and out. She was a forceful reminder of the young scrappy tomboy who wasn't scared of being herself. She reminded me of the girl who showed up to LA, with a dream to change the way we represent women/girls on screen."
"This film feels like a huge step in that direction. It feels like a big accomplishment and/or a weird gift to my young self. And man you guys!!…That's an important feeling."
Abominable is in theaters now.
Like Just Jared Jr. on FB