Sat, 28 September 2019 at 1:27 pm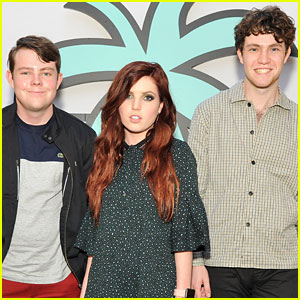 Echosmith's new song "Lonely Generation" is out now, and you can listen to it right here!
The indie pop band – featuring siblings Graham, Sydney, and Noah Sierota – dropped the track on Friday (September 27).
"This song really came from our hearts," singer Sydney told Billboard. "We're all forgetting that we need real, substantial, deep relationships in our lives besides social media. It can be used for good, but it can't replace that real-life connection."
"It's really sad, and it's definitely something that I think needs to be talked about more," she continued. "If anyone else feels this way too, I hope they can hear this song and feel a little better about it. I hope they can also feel inspired to do something about it."
"It's really important to speak honestly about what you are going through," she added. "I really want our fans to know that they're not alone, whether they're going through good or bad. I would love to give them some hope with our music."
"Somebody told me recently that I need to spend at least 10 or 20 minutes [a day] without any sort of technology and just be in real life," she said. "I think that's so important. That's something I'm going to try to do in my own life, and it's something I would definitely want people to do after hearing this. I think that would be a good first step before, hopefully, going a whole day without our phones!"
Watch Echosmith's vertical lyric video now! You can also download "Lonely Generation" on Apple Music.
READ MORE: Echosmith Join Timbaland & For King & Country on New Song 'God Only Knows'

Echosmith – Lonely Generation (Vertical Lyric Video)
Like Just Jared Jr. on FB