Fri, 04 October 2019 at 1:42 am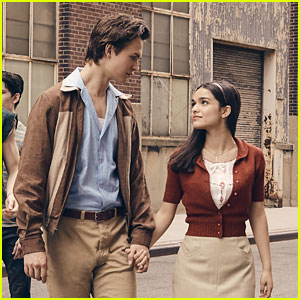 Let's just start off by saying that everyone needs to be kind to one another and sending people negative messages on social media is unacceptable. We're so sad to see that Rachel Zegler is going through this right now.
The 18-year-old actress, who will play Maria in the West Side Story movie, has announced that she's taking a break from Twitter because of the message she has been receiving.
Rachel previously tweeted about "falling in love" with co-star Angel Elgort on-screen on the day the film wrapped last week.
"There really aren't enough words to describe the pride I have in Ansel's growth and beauty and literal magic he possesses on screen and off. Falling in love with him was easy. Happy wrap mi amor; catch ya on a fire escape sometime soon," Rachel tweeted on September 27. The tweet has since been deleted.
Since that tweet, Ansel publicly commented on how he wants to find love with people other than his girlfriend, though he's not looking for anything sexual with anyone else. Fans have been calling Rachel a "homewrecker" and sending her inappropriate DMs, which caused her to speak out.
"the fact that i have to say something is absolutely absurd. but the DMs and the name-calling and throwing around the word homewrecker over me expressing genuine love i have for my coworker is heartbreaking and i don't want any part of it. so peace for now, i guess. be nice," Rachel tweeted on Thursday night (October 3). The message was deleted soon after.
One message of Rachel's that is still up reads, "the internet has made me upset so goodbye for a bit be nice to each other."
Bullying of any form is unacceptable and we want to remind our readers that celebrities are people too. Be kind to everyone!
the internet has made me upset so goodbye for a bit be nice to each other

— rachel zegler (@rachelzegler) October 3, 2019
Like Just Jared Jr. on FB