Sat, 12 October 2019 at 11:35 am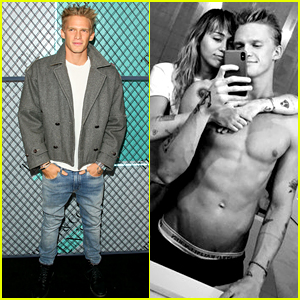 Cody Simpson has a lot to say about life with new girlfriend Miley Cyrus and they already seem like such a sweet couple.
The 22-year-old singer revealed that he has a new song coming out next week at Miley's request. He opened up to reporters at the Tiffany & Co. Men's Launch on Friday night (October 11) in Los Angeles.
Some other Young Hollywood stars in attendance included Debby Ryan, Rowan Blanchard, and model Lucky Blue Smith.
"I'm very happy. We are very, very happy," Cody said about dating Miley (via People). "She's creative. She's very passionate about what she does, and I'm very similar in that sense. That's why we get along so well."
"We just have a ball, yeah, and that's the most important part of a relationship, you know?" he added.
Cody also talked about how he and Miley were friends before they started dating, which was a "different experience" for him.
"The reason why it hasn't been a really crazy sudden thing is just because we've been friends for so long," Cody said. "[We] found each other again in a space where we're both not partying, working real hard, and it just keeps things healthy and it's good… Any girlfriends I've had in the past has always been immediate romance and so it's a different experience having been friends with somebody before and it developing naturally into something more."
Cody is dropping a song next week that he wrote for Miley.
"I wrote her a song this week that she's pretty much forcing me to put out," he said. "She was like, 'If you don't put this s— out, I'm putting it out on your behalf for you. I'm getting your Spotify login and doing this s— myself'… it's something I wrote for her while she was sick this week."
READ MORE: Miley Cyrus Makes Things Official with Cody Simpson, Calls Him Her Boyfriend
Like Just Jared Jr. on FB