Wed, 23 October 2019 at 12:55 pm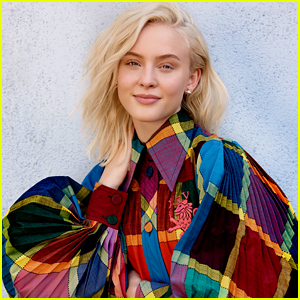 Zara Larsson wears all the colors of the rainbow on her dress in this shot from Teen Vogue's November 2019 issue.
The 21-year-old musician opened up about the future of music, being open and honest with her fans and also shared advice for anyone wanting to make it in the industry. Check it:
On whether she aims to make songs that will do well on Spotify: "I think a song that will do well on Spotify is just simply a song that people like. If you go to the radio and it does well, how organic is this listening engagement? Is it just radio pushing because you've been nice to the DJs at the different stations? Or do they play it because people f*** with it? I think if you do a song that goes well on Spotify, you do a song that's good. People want to hear it. It's that simple. Of course, it helps with marketing and promotion, but yeah, streaming is really the future and I feel like that's what I do. That's what everyone in my age does. So I think more than 'let's get this song played on the radio,' even though it is still important, I feel like the way to start is, 'Do I want this song in my playlist?'"
On how social media allows her to be direct with her fans: "I love that. I think it gives so much power back to the consumers and the artists. These days, you can really put music out or put anything out and connect with people directly. Radio's still important, especially in America, but in general, people listen to whatever the f*** they want to listen to. I listen to Spotify, I don't turn on the radio and say, 'Let me hear what songs to discover.' I already do that on my phone or on SoundCloud, or I find my favorite YouTubers."
On what advice she would give to another young person who is trying to break out in the music industry: "The most important thing is to have your songs and, ultimately, know what you like and what you don't like, because if you just keep at it, people will eventually see who you are. I think it's more important to focus on who you are, and what you want to do as an artist, more than is this a smash."
For more on Zara, head to TeenVogue.com now!
Like Just Jared Jr. on FB